The East Asia Program's new lecture series Contemporary Japanese Thought features our second guest speaker, Thomas Lamarre, Associate Professor in...
Weak Gravity Conjecture from Black Hole Entropy Abstract: We prove that higher-dimension operators contribute positively to the entropy of a...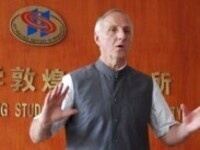 "An Important Dunhuang Manuscript Formerly in the Possession of Hu Shih" PLEASE NOTE: Room changed to Physical Sciences Building 120 (to provide more...
Black Holes, and Nuggets, and Blobs. Oh my! Abstract: The past few years have seen a growing interest to explore dark matter candidates that are outside...
Alex Alemi, Machine Intelligence, Google AI Host: James Sethna Thermodynamics and Machine Learning Over the years, many connections have been made between...
Recent Events