Book Talk: The Autobiographical Self in Time and Culture
Tuesday, September 17, 2013 at 4:00pm to 5:00pm
Mann Library, Room 160 Cornell University Mann Library, Cornell University, Ithaca, NY 14853, USA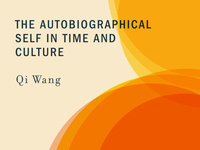 Join Dr. Qi Wang for a talk about her new book The Autobiographical Self in Time and Culture (Oxford University Press, August 20, 2013), Mann Library's first Chat in the Stacks for fall 2013.
Her book traces the developmental, social, cultural, and historical origins of the autobiographical self—the self that is made of memories of our past. By analyzing everyday family storytelling, autobiographical writings in Western and Chinese literature, memory data from controlled experiments in the laboratory, and personal narratives on Blogs and Facebook, Wang illustrates that our memories and our selves are conditioned by time and culture. She examines some of the most controversial issues in current psychological research of memory and analyzes the influences of the larger social, political, and economic forces on the autobiographical self.
Hazel Markus, Davis-Brack Professor in the Behavioral Sciences at Stanford University, comments on the book: "What a fascinating book! Filled with wonderful stories and historical examples as well as highly accessible reports of the latest research, The Autobiographical Self in Time and Culture reveals and explains the through-going cultural nature of our memories and our selves. A useful and engaging read for psychologists in all areas, but also for teachers, managers and parents who are raising their children in a multicultural world. Wang's analysis is so successful that readers will be forever unable to describe an event or recount a memory without considering why and how their story takes the form it does."
Professor Qi Wang is director of the Social Cognition Development Laboratory in the Department of Human Development and associate director of the East Asia Program at Cornell. Wang has received many honors and awards and is regarded as the preeminent psychologist in the study of memory and culture.
Light refreshments and book signing will follow. This book talk is funded by the Mary A. Morrison Public Education Fund at Mann.
Share

Subscribe

Event Type

Department

Tags

Cornell University Library, Mann Library, CUL, book talk, human development, education, psychology, sociology, CALScomm, culture, Memory, Wang, human ecology, Qi, East Asia program, pawprint

Website
Cost

Free and open to all

Contact E-Mail

Contact Name

Lynn Bertoia

Contact Phone

255-5406

Speaker

Qi Wang

Speaker Affiliation

Dept. of Human Development
Rehana Huq left a positive review
9/17/2013
Thoughtful talk .. what was most rewarding was the presentation of the basic science to usable generalizations.